Discussion Starter
·
#1
·
This past year, while preparing for an antelope and prairie dog hunt with long time hunting buddy, Steve Hugel from Colorado, I installed a Burris Eliminator optic on my BAT rear-grip specialty handgun, chambered in 7mm WSM. The fitting and chambering of this 1-9 twist Bartlein barrel and brake were done by Eric Wallace of Nawakwa Accuracy. I am using H-1000 powder, Winchester brass, Federal 210 Match primers, and 180-grain Bergers for a muzzle velocity of 2570 fps. Chuck from Mac's Gunworks had originally chambered this rig as a 6.5 Leopard (WSM), and put a Cerakote camouflage finish on the McRee stock and fit it to the action at that time. I had wanted to try out this scope in the field, and this was the perfect opportunity.
The day before Steve came out I installed the Eliminator on the specialty handgun. Once that was finished I quickly breezed through the Burris instruction manual, and pushed the button on the left side of the scope to program it, only to be rewarded with no power whatsoever. First, I checked the battery to make sure it was in right. Then I went and got two spare batteries from my pack, and they didn't work. Now, what else was a guy to do, but grab a rubber mallet and smack it a few times…Just kidding! Sure enough, as you may have guessed, all the batteries were dead. I grabbed my Swarovski LRF then, took the battery out, put it in the Eliminator, and presto, it worked just like the instructions said it should. So much for the ingenuity of the common man. A trip was made to Wal-Mart later that afternoon for fresh batteries.
I set it to read in yards (as opposed to the other option of meters) for a 100 yard zero. Now I needed to know my drop in inches at 500 yards from a 100 yard zero. I opened up Exbal Ballistics Calculator, and checked the numbers, and it told me fifty-five inches. I have a chronograph and already knew my load's specs., but with the Eliminator you don't even need to know your muzzle velocity or your bullet's ballistic coefficient for it to be accurate. A solid 100 yard zero and a measured drop from your aiming point in inches at 500 yards is all that's needed. Sounds too good to be true, but it works.
Steve got in late (like 3AM late) and needed some extra beauty sleep, so we got a late start after a good breakfast at Perkins. We headed out to Mac's Gunworks to confirm drops out to 600 yards, and maybe even as far out as 700. After bore-sighting, I got it zeroed at 100. I then zeroed the turrets and prepared to shoot at 500 yards. I lasered the target and inside the scope it displayed the range and then a red aiming point lit up below the crosshair. Could it really be that easy, I thought?
I didn't hold-off for wind on the first shot as I was interested mainly in vertical drop, not wind drift at the moment. A second or so after the shot, the oh-so-sweet sound of a bullet slapping steel confirmed the scope's capability. I did make one click correction up and left, as we again checked the 100-yard target. I held off for wind on the next shot then, and made a nice hit at 500 yards. Now I decided to go back to steel at the 200-, 300-, and 400-yard steel targets. At each range the Eliminator made the exact correction called for. I skipped 500 yards then, moved right to 600 and was rewarded with a center hit. The Eliminator lasered the 700-yard target correctly, but the scopes internal capabilities had then been exceeded. I think if I had been using my 6.5 Leopard, this cartridge's load is so flat to 700 yards (93 inches versus 128), and that would have allowed the scope to provide a shooting solution to that range. Needless to say, I had great expectations and it was now time to go antelope hunting.
This hunt was not about trophy size, but determining how the Eliminator would perform in the field. After a period of time we found a buck, and made a stalk to within 316 yards. Everything functioned as it should, and one tag was filled. By the time we got him quartered, it was late and we headed home feeling both pleased and tired. We hoped we would be able to get on another buck early in the morning, so we could do some prairie dog shooting with 22LR specialty handguns (story for another time).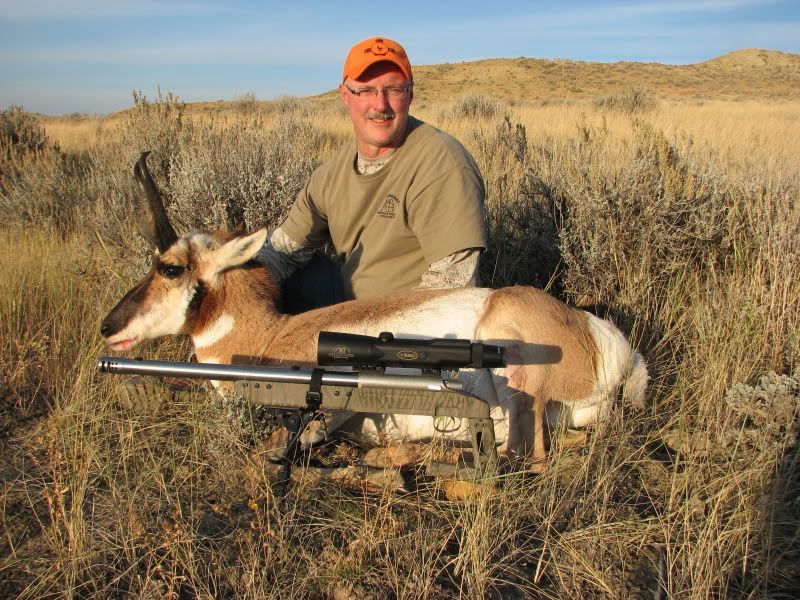 Good fortune was with us that next morning as we were able to quickly get on a couple of bucks. We thought we would be making a stalk in one direction, but ended up going in another. Such is antelope hunting at times. The bucks were on the move, so I continued to range the bigger animal with the Eliminator. Invariably, every time I ranged him, the optic would give me the distance and the red LED would light up on the vertical crosshair showing me where to aim. If the optic cannot get a good read, it will light up all the 200-, 300-, 400-, and 500-yard aiming points at once. When this happens, it essentially converts it into a multi-stadia ballistic reticle, which can be very useful if you know the distance because of previous ranging.
The buck finally stopped broadside at 490 yards. I ranged him again, and was getting ready to shoot, when I noticed the other buck heading his way. For whatever reason, I was in a hurry to pull the trigger before buck #2 lined up for a very undesirable "double." Post mortem, I discovered I'd shot about 3 inches low, and wondered if this happened because I rushed the shot when I saw the other buck coming. I should have just waited for him to clear, but for whatever reason that didn't happen.
I wish I could say that I never make a mistake when shooting in the field. It seems if I am paying attention, I can always find an area or two where I can improve. As you will see in the picture and in the corresponding video clip below, Steve and I had yet another buck to dress out.
Some observations about the Burris Eliminator:
When zeroing at 100 yards, I thought that the design of the main crosshair would hinder me from good accuracy. Not so. My last two shots at 100 yards were an elongated hole.
The turrets are ¼" per click per 100 yards. Since they were not intended to be used from shot to shot, they are not what I would want if I was going to be "dialing" but they are sufficient to the task for which the scope was designed.
You can zero your turrets by rotating the plastic indicator that is on the turret housing.
One area where I am prone to make a mistake when using this optic is that I typically dial for wind correction on long shots. Holding-off is something I used to do for wind compensation, but am out of the habit. When the pressure is on, you will likely fall back into old patterns.
For those who are just getting into long-range hunting and shooting, the Eliminator will be an easy switch since that is how many correct for wind to begin with. You need to know how far your bullet will drift at the distances you will be shooting, and you will also need a means to determine the speed of the wind.
The reticle of the Eliminator is in second focal plane. You must have the magnification on 14X for the electronic dots to be correct. It will range at any magnification, but the electronic aiming points coming down the vertical crosshair will be incorrect if it is not on 14x. If you turned the magnification down to 4x hunt in heavy cover, only to pop out in a meadow and see a bull on the far side, and forgot to turn the magnification ring to 14x, you will end up shooting high.
The glass is on par with many variable powered scopes.
I did not use it in real low light, but it was sufficient for my uses.
I was pleasantly surprised at the level of precision I was able to achieve out to 600 yards when shooting steel targets. My hunting buddy Steve Hugel who also ran the camera, noticed that after my initial shot at 500 yards that subsequent rounds were ¼ MOA or closer to the bull at all distances out to 600 yards.
If you are using a flat-shooting rig your effective ability with the Eliminator may go out to 700 yards or so. I was ranging antelope just beyond 700 yards with no problem. The crosshair must be used when ranging game or a target. If your electronics gave out on you while hunting, it can still be used like any other traditional scope. If you developed a drop chart for your load and kept it with you, you could also dial your elevation if you had the means to determine distance to target.
Eye relief was good enough on 14x for me to not be worried about getting "scope eye" when using a specialty pistol chambered in 7mm Winchester Short Magnum using 180 grain Berger's (mine has a good brake which also minimizes rearward motion).
Having a scope that will both determine range and give the correct firing solution will not make you a better shot or an instant long-range hunter. For hunters who want to increase their distance, and will practice their shooting skills from field positions (Get Off The Bench) will be able to increase their maximum range compared to using a plex or dot reticle.
Field of View @ 100 yds: 25' @ 4X; 9' @ 12X
Advertised Eye Relief:  3.0-3.5"
Click Value @ 100 yds: .25"
Windage and Elevation Adjustment Range @ 100 yds: 50"
Reticle: Illuminated dots on plex-type reticle
Length: 13"
Weight: 26 ozs.
It also automatically compensates for shooting angles up to 45 degrees.
When the scope gets a distance reading that is beyond the capability of the reticle's drop compensation system, the bottom four dots will light up, signifying to you that the target is beyond the reticle's capability
The Eliminator is a simple system which works well within its design parameters.
If you are looking for an all-in-one system in terms of scope and laser rangefinder to extend shooting and hunting distances, the Burris Eliminator may just be the ticket for you.
http://www.youtube.com/watch?v=Aq-jffdmDIU