Discussion Starter
•
#1
•
I was given my first one back in 1976/77 by my parents. It was a Buck 110 folder. I wore that knife everyday for most of ten years, all thru high school. (Yes in those days it was not a problem) In about 1979 or '80, I was given a Buck 112 Finger groove. I LOVED that knife. Better size and feel than the larger 110. Well, I lost it in a river some 4-5 years later... I have had other 112's but never a finger groove. Over the summer, I found a pristine '70's vintage M112 finger groove and jumped on it.
It got me looking at my BUCKs! Well, As of tonight, I have bought 8 more older bucks! I think I have a problem... Tonight I bought a nice 70's 119. I bought a couple duplicates, cause what I had was newer. I think I will peddle my newer ones keeping the what I feel are better older Bucks.
I have never spent big $$ on a knife... well I bought a TOPS for over 200$ couple years back.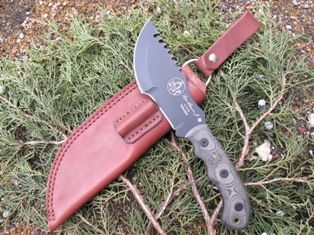 I find myself wanting a old m124. I have never owned one, but find they are commanding big $$... pushing $400 for some real nice ones.
Any of you guys crazy like me?
CW