Discussion Starter
•
#1
•
Hey Guys:
Just thought I would stop in for a little while and share a couple pictures of my morning deer hunt. I got lucky and drew a managed hunt permit this year, 1 of 300 permits drawn out of several thousands who applied so I count my self very very lucky. I dropped this little 7 pointer at 8:15 AM this morning, which was the opener for this managed hunt..To tell the truth I was kind of bummed nothing had come my way with all the shooting going on around me, so I had just phoned my lovely wife to give her an update when he came into my field on a good trot. I had to tell her to hold on when I shot him,so she got to hear me coaxing him to my ground blind...(
which is the only safe place to be is behind a big tree on public land for any type of deer opening day
) and she got to hear over the phone when I shot him too......This is the first for me dong that...which was kind of neat.. This by the way... is about as close as I will ever get her into the woods to deer hunt...
I was carrying my CVA Optima Elite 45-70 this morning shooting last years Hornady's Lever Evolution 2050 fps ammo.No mis fires or bobbles with it.. He was moving fast coming towards me down hill right on the edge of the plowed field I was hunting over..., and I new I had to shoot fast or he would be hanging on some one else's meat pole, he was getting ready to veer to the right and would be gone in a flash if I waited any longer. I had several folks move in on me and the area I was hunting, so I had a devil of a time till after first light. 8 guys in total wanted to hunt right on top of me, and only one was really rude about it, and went in behind me and to my left..He wanted to hunt out of my second blind I had set up, and I told him no way..My field edge was only 150 yards across..but very long and I knew if I missed them in the field..where they would be running... I really didn't give him any choice because I told him he would be in my line of fire and I would be firing if they came that way..He really didn't like it much..but he was looking hard at those 45-70 shells with the red tips in my shell holder real hard...They are kinda intimidating..
;D
My shot was one of those 50%-50% chances, but I felt pretty good about making it. I let him come in from 350 yards out and knew where he was going to cut back into the ravine from watching him the night before when I purposely jumped him. Being able to see how they react and where they will run too is a major plus for ground hunting public land...and is a tactic I have used with success before...beat the crowd in to the area and know which way they will be pushed too...It's not always easy...but then it does pay off in the end....... I shot him at 192 yards, the first shot took him high and right in front of his hind quarters, and below his spine.Luckily t didn't ruin the back straps according to the butcher...and am looking forwrd to so savory grilling very soon... He dropped at the shot but had moved out of the field I was over looking into the ravine. I reloaded and quickly moved up 50 yards into the field from my blind and put the next round right behind his shoulder finishing him for good. He dressed out at 127lbs. Even though I got him, I am not real pleased with the ammo's performance. I think this ammo is just too tough for deer unless you real smack heavy bone, neither shot opened up much and didn't do massive internal damage. Yes I know, dead is dead, but the ammo didn't live up to the company's claim as being made for deer hunting IMHO, that is all and just seems more suited to heavy game...and the BPI folks used this barrel in Africa last year on some really big game and shot this ammo thru it..All 1 shot kills there...so...I think I'll stick to the Speer Uni-core or Nosler Partitions with it for a little while.
He certainly isn't the largest deer I have taken, but I certainly earned this one. Last night I had ridden my mountain bike 3-1/2 miles in and hiked another 2 miles up hill
1 way
to where I was hunting at and did a real complete reconnoiter of the area, which gave me a couple of very nasty blisters for my hard work. Funny thing after all my work getting there, I found out that I was just 20 minute leisurely walk to a parking area all flat as a pancake..which I took this morning...oh well..
that's life and I got plenty of exercise and saw a bunch of pretty hunting area.
I have 2 more full days of hunting yet...and will let you know if my luck continues..
Here ya go...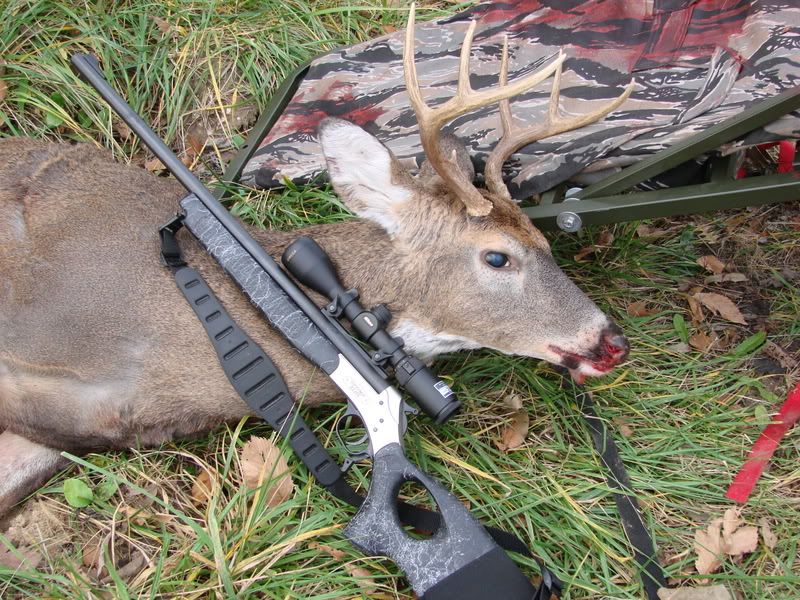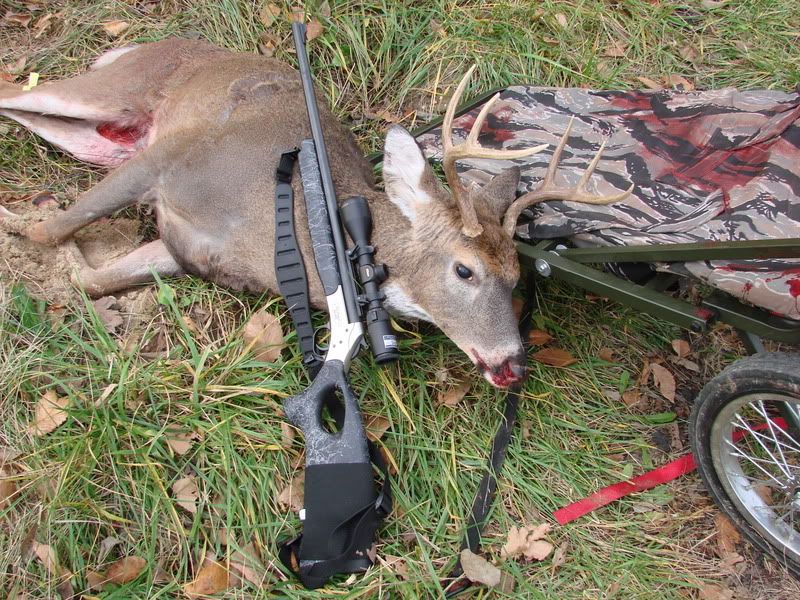 Mac