Discussion Starter
·
#1
·
I got to the range this am in our first snow fall of the year.
I loaded up a few 300 AAC loadings and found a box of five different 223 loads to try in the MVP. Then my good load in the 454. and a few different 22Maggies for the marlin 782. So five rifles in all..
The Marlin 782 was first. It was WAY off. I was very suprized that the scope had that much adjustment It s Tasco "tactical" 2.5x10 AO. probably a 100$ cheapo. But I have had good lusk with them on my rimfires and I really like the AO on my rimfire scopes. About a doz shots and its shooting a bit high at 50 and a bit lo at 100.
Then the H&R 300. Its sited, but I did not take any time for grouping. 125g Sierra HPs with lil gun. I seat them long and load them hot. I cronographed them at 2280fps.
Here is 100 yards
Here is 50 yards
Its ready!
Next up was the 454... It had a VX-II 2x7 shot left and altho I was able to center the group, the elevation did not coperate.
Nice thing was the last three shots clover-leafed at 50 yards. ;D
Next was the Ruger American Ranch. Most of my test loads where built for this. The two 110G loads were only so-so @ 1 - 1.25" at 100. (This gun will do much better) The stiff load of 4227 and the 125 SST where a one hole recipe!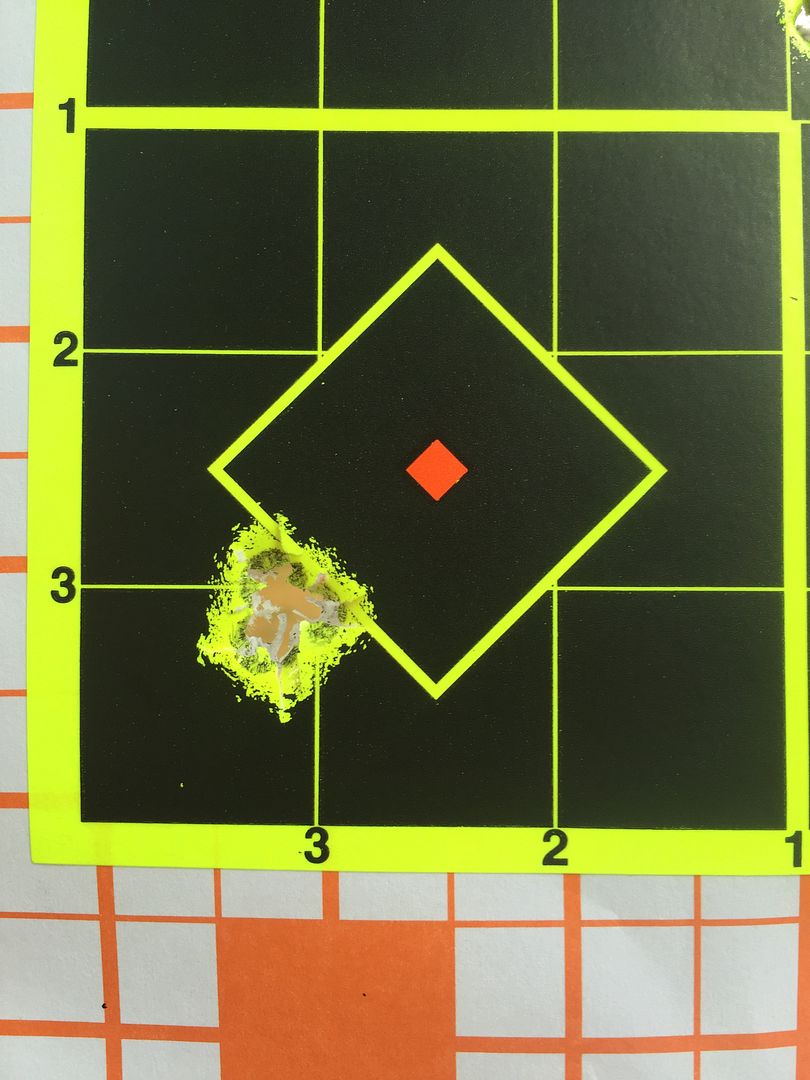 Out at 200 they where just about 1".
Then I tried my 296 load with 125 BT's out @ 200. I held on the second circle down in the P300 reticule.
Lastly was the MVP. I met a friend there and he has been thinking he "needed " a MVP. I let him shoot five rounds at 100..
HE dropped the last shot, saying the trigger was lighter than he was used to. but he was impressed.
I also ran some 300 AAC loads thru the chrony.
My 4759 and 125g lead booger boolits shot allot hotter then I expected.
15g went 1900+fps
13.5g went 1550fps
10g went 1250 fps
This last loading is about where I want velocity. This powder is close to 296 and bulky so @ 10g its about 3/4 full. I think its a good 300 powder.
My over max loading of IMR4227 load with a 125 SST went 2100fps
My 17g 296 load with a 125BT went 2050 fps
My over max loading of Lil Gun load with the long seated 125HP went a sizzling 2280 fps!
Then I tried a lil 90g XTP seated in front of 15g of 4759 powder... 2050 fps!
CW