Discussion Starter
•
#1
•
Heres a picture of the handgonne sent to me by GGaskill a few weeks ago...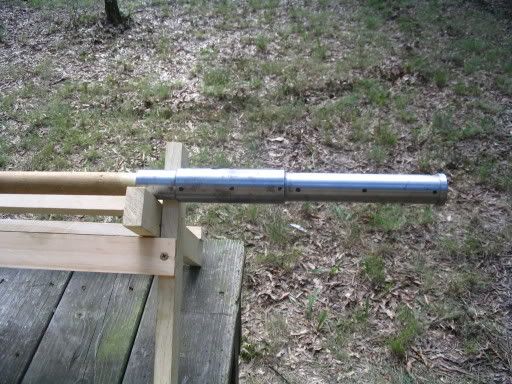 And heres the test rig I made to fire it...
A down range view of the gonne
I started firing the handgonne with a 50 grain charge of FFg power. Using both balls that were provided, the first shot was using a .662 dia ball that averaged a weight of 433 grains. The cotton patch used was .015 and made for a nice snug fit that was easy to load. The second shot was with a .678 dia. ball that averaged a weight of 469 grains. No patch was needed and it was a nice fit in the barrel, not too tight, but not to loose either.
Before the first shot, a measurement was taken with a Mitutoyo Digital micrometer that measured in tenths of a thousanth. This was checked with a standard and was right on the money.
The 50 grain shot was determined as the powder chamber when it was full would hold approximately 52 grains average. 50 grains seemed like a nice round number to start with. The shot had lots of smoke and recoil was nil. Recoil measurement was taken from the front point of the test stand and a large nail was pounded into the ground to use as a reference. It was simple but effective.
It did sound a bit louder with the patched ball,probably due to the better seal in the bore than the .678 ball could provide.
Testing was done using 5 grain increments and using both the patched and the unpatched ball. Measurements were compared with the base measurement along the whole process.
I eventually took the load up to 200 grains.I figured that this was a gross overload, but my curiosity got the better of me. I wondered what would happen with a double charge. Being an avid muzzleloader for the last 30 years, I know that strange things can happen.
Somewhere around 120 grains, I started cutting my fuse a little longer. I didn't suspect that anything bad would happen, but having witnessed Murphy's Law in action more than once, I decided not to tempt fate. I had plenty of time to run away and get behind a rather large Oak tree.
At 200 grains, and shooting both patched and unpatched balls, I got brave and figured that if it could survive a true double load, that this gun would be OK for even an idiot to use. I loaded 200 grains of powder and put 2 balls in,doubling the weight. At this point I noted no dimensional changes. I figured if I were to see any at all, after firing this load this would be the time to see it.
The noise was horrendous. The fireball was impressive and the recoil would have been too much to bear if held in the normal manner. The stand recoiled about a foot back and it did it very quickly.
After the measurement, I noted about a .0002 difference in change but in all fairness the gonne was hot from repeated firing. I let it cool off too ambient temperature (at this stage it was a nice 96 degrees out) and measured it again. No discernable difference was noted.
It appeared that somewhere around 120 grains that the barrel had burned all of the powder that it was capable of and that the rest was just making big fireballs.
Here is a picture of a 120 grain shot...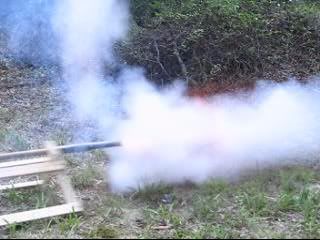 Here's the fireball from one of the 200 grain shots....beautiful if you're a pyromaniac. Luckily it rained the day before....or it would have set the ground on fire...
Al in all it was a fun and enlightening project. I want to publicly thank Mr. Gaskill for providing me with this opportunity.